#3 • January 31, 2020: Lubov x Ways of Raving at Montez Press Radio, 46 Canal St, #2, New York, NY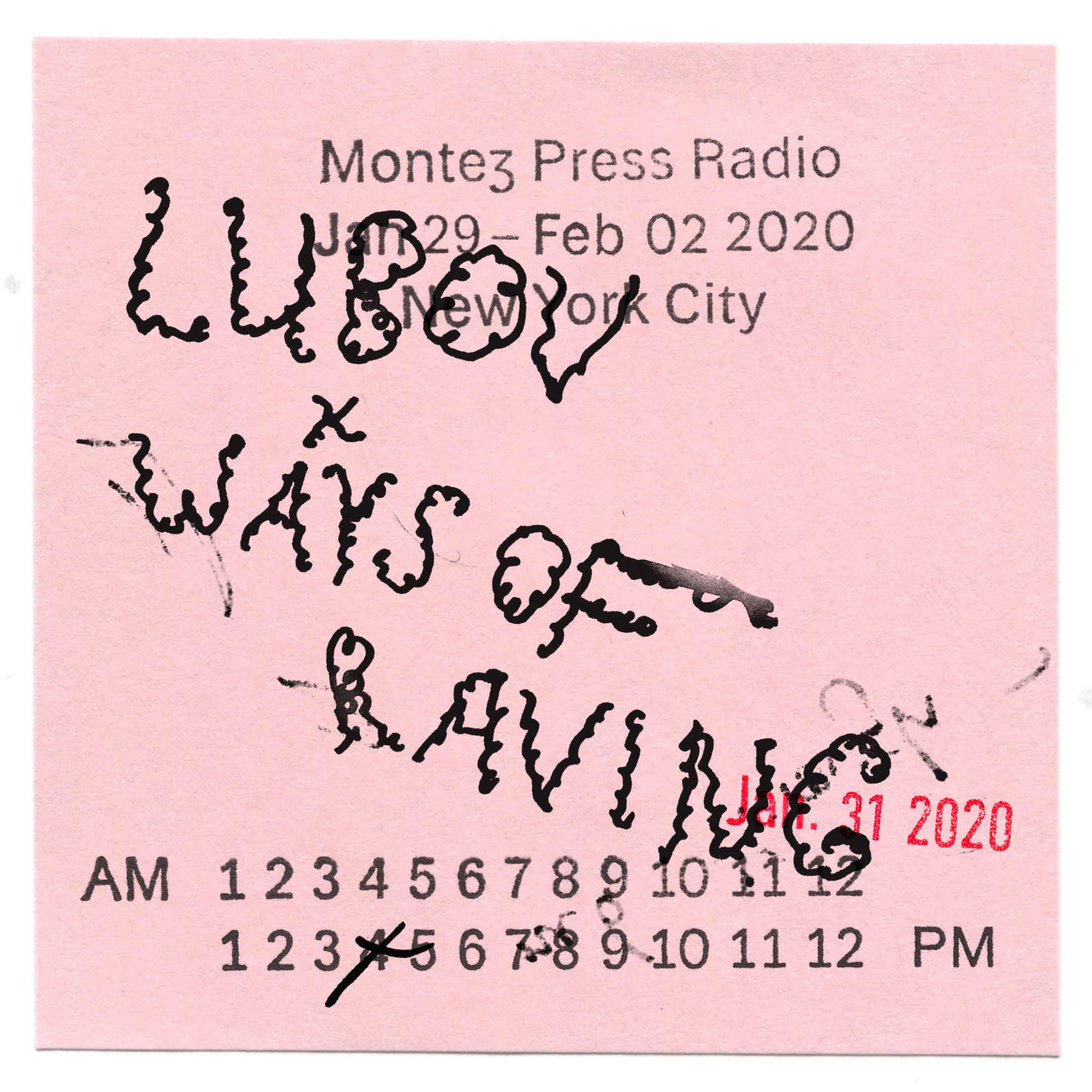 Broadcast: Thursday November 21, 1-2:30 pm
Bessie Zhu, Francisco Correa Cordero, Geoffrey Mak in conversation about Ways of Raving, an open-ended series of booklets that present contemporary experiences and perspectives on rave.
Bessie Zhu is an artists' book publisher and producer of the upcoming booklet series, Ways of Raving.
Geoffrey Mak is a writer who divides his time between New York and Berlin. His writing has appeared in Artforum, Art in America, Mask, Guernica, and The Los Angeles Review of Books.
Francisco Correa Cordero is the founder and director of the contemporary art space Lubov in Lower Manhattan.
#2 • November 21, 2019: Pendant at Montez Press Radio, 46 Canal St, #2, New York, NY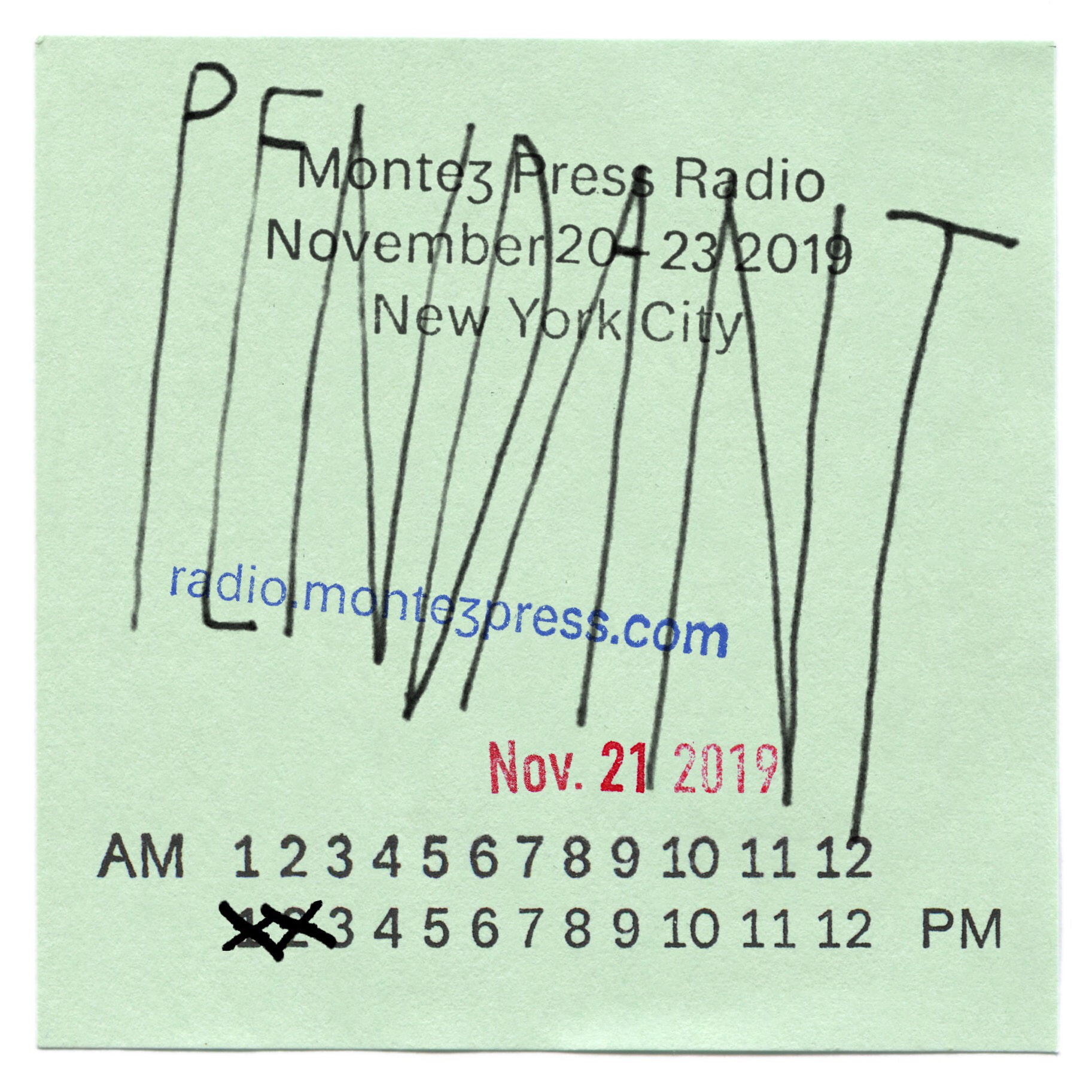 Broadcast: Thursday November 21, 1-2:30 pm
Pendant was an exhibition at World Pro News (WPN), the roof of 5 East Broadway, New York, curated by Tabitha Piseno. Live performances took place on October 18th and October 25th with the restraint that sets be made specifically for the roof and tailored with sound levels specific to the location. Weather conditions were generally overcast between 40 and 60 degrees with an average humidity of 55%.
track list:
Permanent Six Flags, Live at WPN, 10/18/19, 21:52. Permanent Six Flags is an epistolary duo and residency program comprised of Derek Baron and Emily Martin, writers and teachers based in Brooklyn, NY. Their most recent album is A Festival Play for the Consecration of a Stage.

The Actual School, Live at WPN, 10/18/2019, 10:10. The Actual School is a collective of workers, a set of options for organizing work, and a continuous discourse around the concept and function of actuality. The Actual School is based in New York City and was founded by Aaron Dowdy, Nick James Scavo, and Xander Seren in 2014. Aaron Dowdy is a researcher based in NYC with a focus on critical theories of the visual and contintental philosophy. Xander Seren is a musician and software developer based in Queens, NY. Nick James Scavo is a musician and writer based in New York City.

TEL, Live at WPN, 10/18/2019, 7:18. In archaeology, a tel (derived from Arabic: تل tall or Hebrew: לת tell, 'hill' or 'mound' ),is an artificial mound formed from the accumulated refuse of generations of people living on the same site for hundreds or thousands of years. A classic tell looks like a low, truncated cone with sloping sides. It is also a collaboration between Multi-instrumentalists/ composers and improvisers Benjamin Scott and K. Hank Jost.

Asha Sheshadri, "Figure 1.2", Dedicated to Gena Rowlands, featured on Recital "Cellar Volume 2" CD, 5:28. Asha Sheshadri's work involves the unpredictable observation of and response to a personal and political network of relays -- archival fields coexisting in entropy that operate within our collective worlds and imperfect memories. Her work, often taking the form of essayistic videos, recordings, readings, and performances, follow these relays towards creating environments from musical and non-musical artifacts alike -- a kind of "affective collaging" concerned with the personal deconstruction and re-assemblage of archival objects and documents. Asha's work has been released via several imprints including Entr'acte Recordings, Recital Program, with forthcoming releases on Anomia and Marginal Frequencies.

Max Eilbacher, "For-me-ness", 16:02. Max Eilbacher is an intermedia artist who works primarily with sound, video, and performance. His sound practice draws upon traditions of electroacoustic, musique concréte composition and process-intensive computer music. "For-me-ness" was created specifically for the roof of 5 E Broadway.

Daren Ho, Live at WPN, 10/25/19, 20:23. Daren Ho is a New York-based experimental electronic musician.

Compile, Live at WPN, 10/25/19, 10:28. compile.global
#1 • March 27, 2019: HIT Journal 2018 at Swiss Institute, 38 St Marks Pl, New York, NY

Issue launch: Wednesday March 27, 6-9 pm
Jean Luc Andrianasolo Hugo Baud Murat Bulut Aysan BUREAU Ligia Dias GARNISON Gaëlle Edwards Lubov Gallery NYC Servane Mary Coline Mir Baker Wardlaw